Can I use Motion Array Assets (templates, videos, music, sound, photos, etc) for my YouTube videos?
Yes, you can use our assets for YouTube videos. 👍 If you have a paid account, or even if you have a free account, you can put our assets into a video for publication on YouTube. Just make sure your finished video is unique. You don't even have to credit us: just enjoy our content!
Can I monetize my videos?
Yes you can! However, videos with editorial content cannot be monetized because those clips are non-commercial. You can identify "editorial" content by checking the product page for the Editorial use only. Not for commercial use label: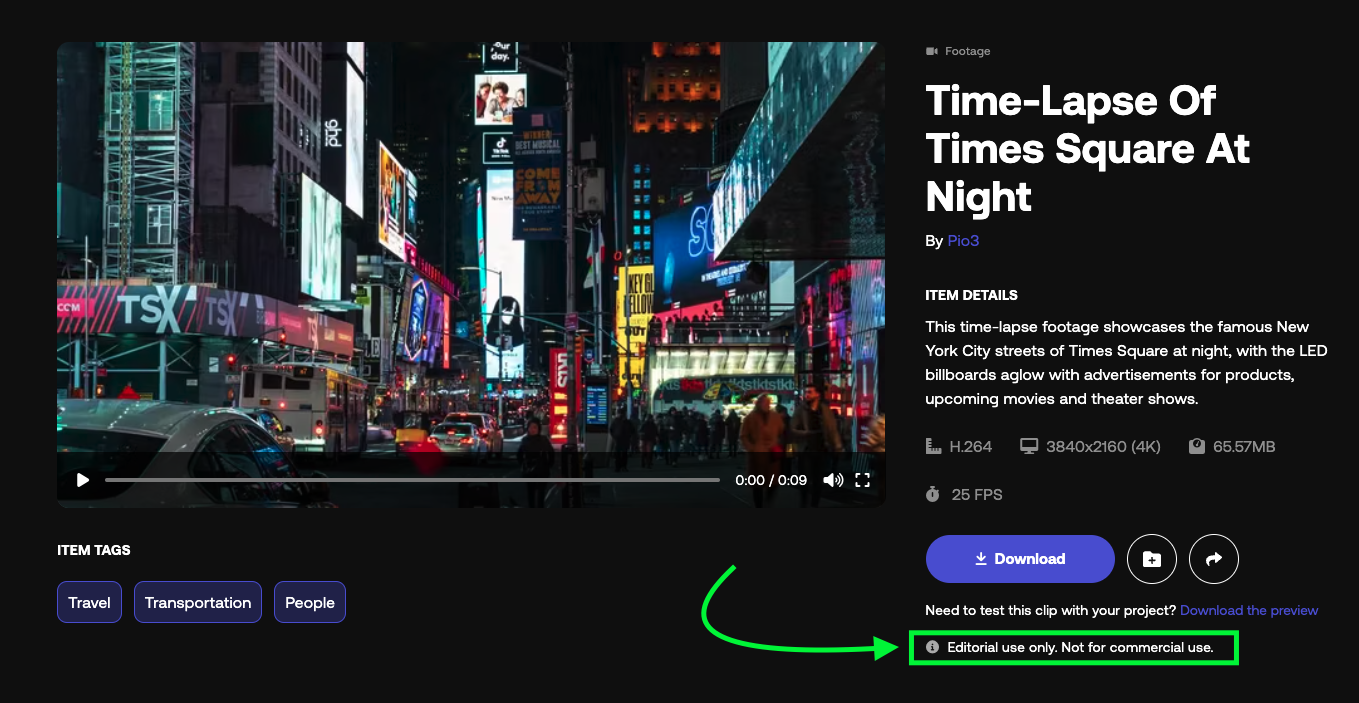 Are there any rules for uploading to YouTube?
There are just four rules about using our assets on YouTube:
Do not post songs or videos on YouTube for the purpose of distributing them to people for free. When incorporated into a larger work, it is hard to download the song or video to use for free. However, if you post just the song with a visualizer or logo, then it is very easy to download the song for free, even if you don't mean for that to happen.

You need a paid account to publish videos with premium assets on YouTube. Once published, they are licensed forever even if you cancel.

Do not advertise a paid service to customize templates for a 3rd party.

Editorial content cannot be monetized or used for commercial projects.
If you follow these rules, you can use our assets in any YouTube video!
One more thing...in the event that you get a copyright notice for a video you uploaded to YouTube using Motion Array assets, check out this handy article for clearing YouTube copyright claims. It's also a great idea to save a log of the assets that you downloaded and used for each video, as each asset has a unique asset number and can be helpful if you ever need to find this asset again:

(https://motionarray.com/royalty-free-music/swing-it-right-now-1040500/)
Are some songs registered with Content ID?
Some of the songs in our library are registered with Content ID. This information is always visible on the asset download page:

You can learn more about how you can use our Content ID registered music here.
Rest assured, you can monetize videos that contain Content ID registered music.
We hope this has been helpful, and please don't hesitate to reach out if you have more questions.